Customer Spotlight: Gerry Jones Transport
Gerry Jones started his business in a small office in Newport in April 1982; originally subcontracting work out, but over time he bought his own vehicles and a long-term relationship with MAN was born.
"The first MAN trucks were on a C reg and have been with them ever since", Gerry told us. "There are bigger hauliers out there, but we have been the flagship for MAN here in South Wales for many years".
For our Customer Spotlight, we asked Gerry why MAN, "At the time it was the only vehicle which was light enough and could carry the capacity we needed. Today the majority of the fleet is still MAN and we have got 10 of the brand new ones on order".
In fact, Gerry will be one of the very first UK operators to put the new MAN TGX on the road after seeing it at the pre-launch event in October last year
Gerry has been working with WG Davies since he bought his first MAN, almost 28 years ago now. "We have a long established partnership as I call it with WG Davies, Roger has been good to us for many many years." He uses the word partnership because "We have gone to social events with Roger and his wife, it is a supplier client relationship, there is a lot of mutual respect there. This is very much a people industry and you end up working with the people you like."
Gerry Jones has their own workshop but they still need support from WG Davies. "WG Davies parts are important because we like to use original parts and there are times when the technical back up is needed as well. We have our own workshops and a MANCAT diagnostic machine, but there is warranty work that we take to WG Davies and, of course, these trucks are getting more and more technical. Inevitably, we will come across a problem that we cannot fix ourselves, that is when we lean on WG Davies - they have never let us down."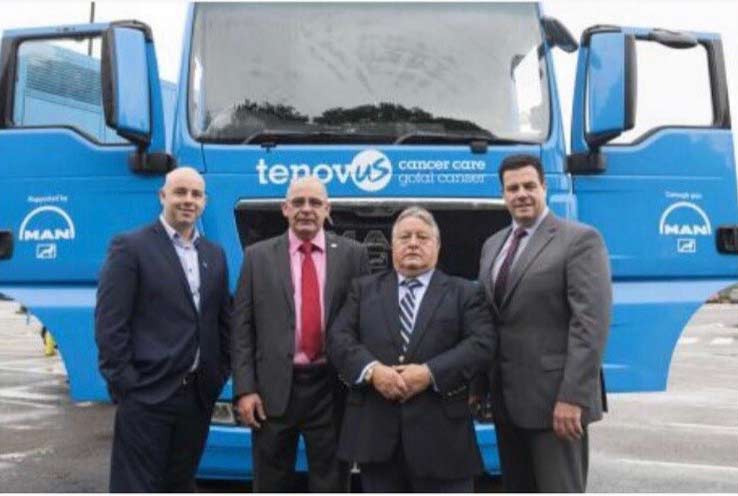 As it is with WG Davies, family is at the heart of Gerry Jones Transport. Gerry may have started the business alone but today he is supported by a number of family members: "My son Nathan runs the workshops, my brother runs our facility in Tredegar, my brother in-law works in the warehouse and the other brother works in the traffic office". And the Transport Association acts as something of an extended family as well, "It is a group of haulers which started after the second world war. There are only 65 members and we were invited to join in 1997. If you have got a truck away from home with a problem the nearest Transport Association member will help out, it is almost like having 65 depots around the country, we are proud to be a part of that".
To his credit, Gerry secured an MAN vehicle for the Tenovus cancer charity, he told us "A few years ago I met someone from Tenovus who was pulling this cancer unit around South East Wales and they were being charged a huge amount of money for the rental of a truck. So, I went to MAN and begged a truck from them, I got Michelin to put the tyres on and WG Davies do the maintenance. And that is still how it works today".
Asked what he sees as the greatest challenges to his business in the future, there was no hesitation: "Fuel is a major factor. We are spending £3.5m each year on fuel so if you can get an extra 8-10% return on that, as they are promising on the new MAN truck, that is magnificent. In addition, you have got to get a return on the money invested, so the vehicles have to be working - reliability and downtime are significant factors. And that feeds customer confidence because you are only remembered in this game for your last mistake, if you drop a delivery you will be remembered for that."
The focus on customer service mirrors WG Davies' values and Gerry was quick to acknowledge how important that is to them "WG Davies are integral to keeping our customer confidence, even when we have had a problem with a vehicle up country that can't be fixed, Roger along with MAN has gone the extra mile and got a loan truck for us to continue with".
Thanks for stepping up for our Customer Spotlight Gerry; we're looking forward to seeing the new MAN TGX tractors arriving in his distinctive black and red livery later this year.